Non-adherence to statin treatment in patients with cardiovascular diseases
Investigator: Gejza Wimmer jr.
The research concerned the adherence to the prescribed treatment for patients with cardiovascular diseases and, in the case of selected publications, focusing on elderly patients. Based on real data, many potential factors influencing the re-initiation of treatment were examined and evaluated in a group of patients who discontinued previous treatment for various reasons. The analysis also suggests insufficient drug discipline in patients who did not adhere to / discontinue the prescribed treatment during their treatment period.
The publications belong to the results of a long-term cooperation with Prof. MUDr. Martin Wawruch PhD. from the Institute of Pharmacology and Clinical Pharmacology, Faculty of Medicine, Comenius University in Bratislava.
The contribution of the Institute of Measurement Science included in particular the processing and analysis of data, as well as the consultation of using various mathematical and statistical procedures and interpretation of the results of these methods.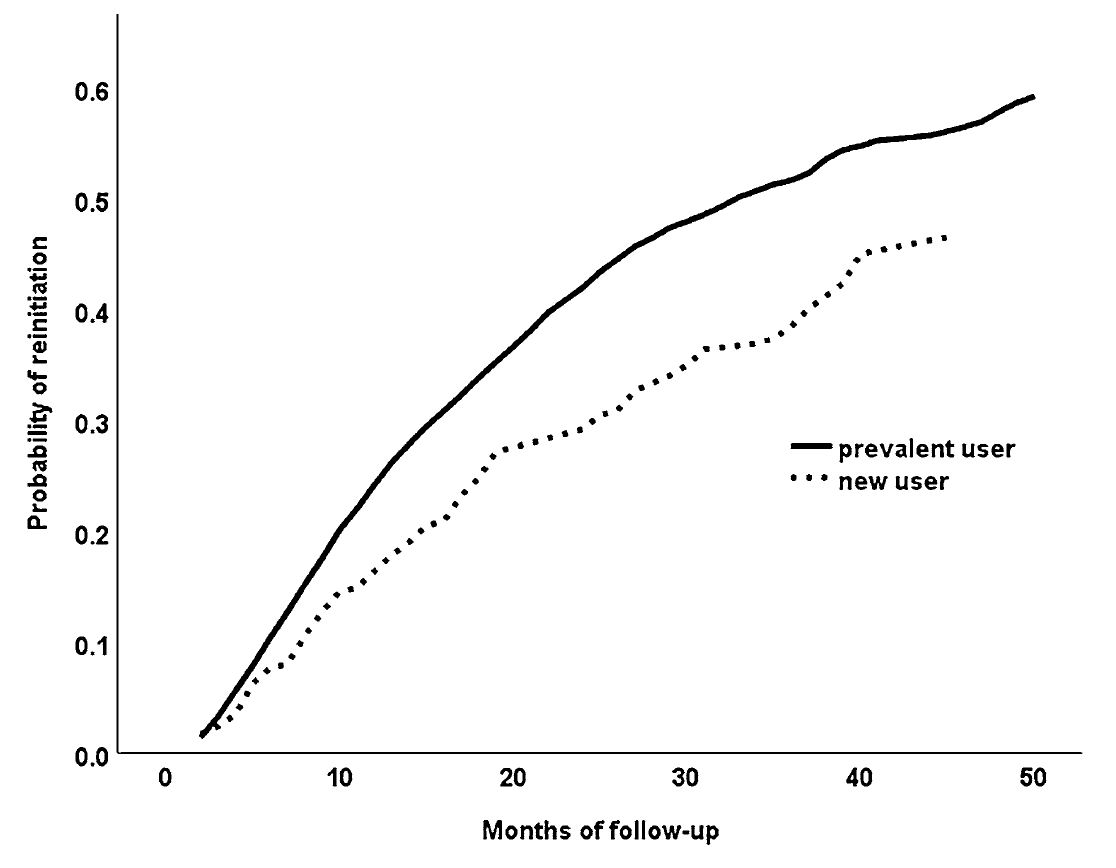 FIG.: Probabilities of re-initiation of treatment
Publications:
WAWRUCH, M. – WIMMER, Gejza, ml. – MURIN, J. – PADUCHOVA, M. – TESAR, T. – HLINKOVA, L. – SLAVKOVSKY, P. – AARNIO, E. Factors associated with reinitiation of statin treatment in older patients with peripheral arterial disease. In Drugs & Aging, 2020, vol. 37, no. 8, p. 595-604. (2.824 – IF) Q2
WAWRUCH, M. – WIMMER, Gejza, ml. – MURIN, J. – PADUCHOVA, M. – PETROVA, M. – TESAR, T. – MATALOVA, P. – HAVELKOVA, B. – TRNKA, M. – AARNIO, E. Non-adherence to statin treatment in older patients with peripheral arterial disease depending on persistence status. In Biomedicines, 2020, vol. 8, no. 10, p. 378-390. (2020 – Current Contents). ISSN 2227-9059. Q1, 1st Decile